HOW TO GET TO LA COSTA DE PAPITO
From the capital San José it is a 4 hour drive across Guapiles, Siquirres and Limón, to Puerto Viejo de Talamanca. The most widely used transports to get to Puerto Viejo are: bus, interbus, and car rental.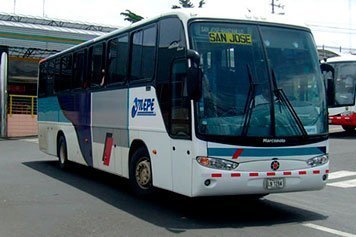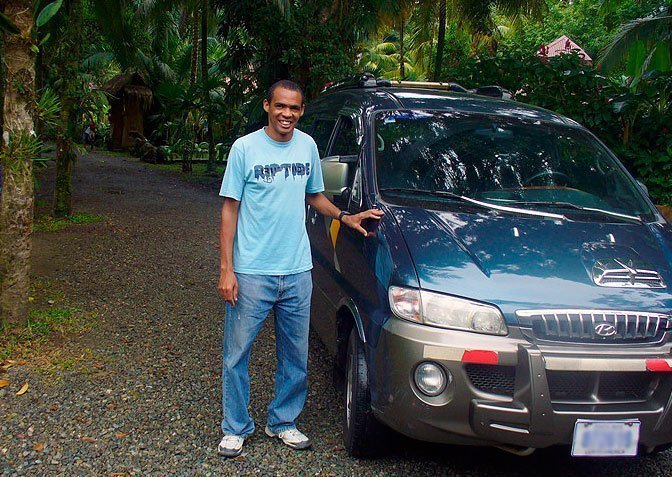 INTERBUS
Via interbus ($54 USD per person) shuttle service with A/C.
Door to door from your hotel in San José (Pickup 7:00am.) to La Costa de Papito in 4 hours.
Return Trip from La Costa de Papito to your San Jose hotel (departures 6:30am and 2:00pm).
$64 per person 6:00am from Arenal (La Fortuna) to La Costa de Papito.
9:40am from La Costa de Papito to Arenal (La Fortuna).
Booking is available via LA COSTA DE PAPITO.
PRIVATE VAN
For $215 USD (up to 5 people) you can be met at the airport or picked up at your San Jose hotel and transported directly to La Costa de Papito.
Your return trip to your hotel or the airport can also be arranged. Price is for up to five people. Additional persons are $25 extra.
Booking is available via LA COSTA DE PAPITO.
Rent a Car from Our Friends at Alamo
San José Bus Station
At the Bus station, "Atlántico Norte" in San José, Avenida 9, calle 12 (Barrio México) there is a direct bus 5 times a day to Puerto Viejo. The trip takes about 4.5 hours.
Once you get to Puerto Viejo bus station, we recommend to take a taxi to our place.
Schedule (from San José to Puerto Viejo):
6am, 10am, 12md, 2pm, 4pm.
Schedule (from Puerto Viejo to San José):
7:30am, 9am, 11am, 1pm, 4pm.
Price: 5.270 colones (around $10 USD, or 9 Euros) – updated December, 2016.
Adventure Inn Hotel in San José

Descuento del 10% a nuestros huespedes (10% discount for Papito´s customers)
Servicio de transporte del aeropuerto gratuita (free airport shuttles)
Desayuno completo gratuita (complimentary complete breakfast)
Piscina, jacuzzi y gimnasio (pool, jacuzzi and gym)
If you need a hotel near the international SJO airport for a late arrival or early departure, we suggest you consider staying at the 3.5 star Adventure Inn. They offer free airport shuttles before and after international flights, they'll arrange your transfer to and from La Costa de Papito Hotel, or will help you with a low cost car rental. They have spacious fully equipped rooms, a complimentary buffet and hot served breakfast, a great little restaurant and bar, a pool and Jacuzzi, a gym, four guest computers, free international phone calls, and they are the # 1 hotel on TripAdvisor in their area. As an added bonus, right now they are offering a 10% discount to La Costa de Papito Hotel guests on top of any other discounts.
Transport with Rafting Adventure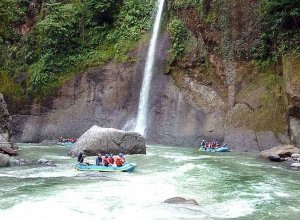 These specially designed adventure connection tours allow you to get picked up in one place in the morning, have a day full of adventures and lifelong memories and then get dropped off at La Costa de Papito at the end of the day.
Itinerary:
| | |
| --- | --- |
| 6:00 — 7:00 am | Pick-up in your hotel of San José, or at La Costa de Papito. |
| 7:00 — 8:15 am | En route to "Exploration Center" in Siquirres |
| 8:15 — 9:00 am | Breakfast at the Exploration Center |
| 9:00 — 9:30 am | En route to river |
| 10:15 am | Preparation for the descent (safety orientation, paddle practice) |
| 10:15 — 2:15 pm | River descent (including lunch) |
| 2:15 — 3:00 pm | Arrival at our "Exploration Center" with time to shower, change clothes, enjoy a beverage and reflect on the adventure just shared |
| 3:00 — 5:30 pm | Transportation to your choice of: San José, La Costa de Papito |
Tour information:
| | |
| --- | --- |
| Difficulty: | Class III-IV |
| Distance: | 30 kms ( 18 miles) |
| Number of Rapids: | 38 |
| River Time: | 4 hours approx. |
| Minimum age: | 12 years old |
| Departures: | Daily with pickups between 5:30 AM and 7 AM depending on your location |
| Duration: | Full day |
| Cost per person: | Booking is available via LA COSTA DE PAPITO |
| Includes: | • Training, safety equipment and guides • Breakfast (optional) • Lunch • Secure luggage storage while you're on the river |
| What to bring: | Swim suit/swim shorts, towel, t-shirt for on the raft, dry set of clothes, insect repellent, waterproof sunscreen, shoes or sandals (not flip flops, you must wear shoes in the boat but they will get wet), credit card in case you like to purchase a CD with photos or drinks after the tour |
| More info | at La Costa de Papito |
Refresh your senses


Reservations can be requested by e-mail to:

[email protected]


This is the only way to apply this rate.
It is important that the customer identifies himself as a guest of "La Costa de Papito" to get this special rate.