You want to get married on the beach on Costa Rica´s South Caribbean Coast?
You've made a very good decision.
You are considering La Costa de Papito for your wedding reception. For your wedding ceremony. As your host hotel. For flowers, decoration, music, photography, hair and makeup, bouquets, all the details that are important to you. Another very good decision. We have eight years of experience producing weddings. From the bare minimum two people to a medium size forty person affair to a large 90 person event. With practice comes proficiency. Count on personalized creativity, impeccable service and that human touch.
The warm blue sea, the balmy coconut palms, the pristine white sand beaches, the afro-caribbean inhabitants, sensual rhythms and exotic dishes are equivalent to what one experiences on the tropical Caribbean Islands.
Our services are the most affordable in the South Caribbean. You do not have to pay a wedding planner, we can take care of all your needs. And if your needs are simple you can use only the services you want

Ceremony Site
We are right across the road from the gorgeous white sand Cocles Beach. Just off the beach is a shady coconut grove which is an ideal site for the ceremony. You can of course get married on the beach but it's much cooler in the shade with the beach and the ocean in full view.
It's a short few minute walk from La Costa de Papito to the site. It gets dark here by 6 pm so to assure good lightning for the photos, the ceremony should begin by 4 pm.
We can create an alcove of bamboo, palm leaf and flowers to frame the couple and the ceremony spokesperson. We provide seating with white covers for the guests.
The Coco Loco
We can set up for a "Coco Loco" toast (chilled coconut water with 3 different liquors served in the coconut) after the ceremony. Coco Loco Toast (Brindis) $7 per person.
Wedding Prices
To clean and prepare the coconut grove and the entrance to the beach, create and construct and decorate the alcove and provide covered seating.
$250 – up to 12 people
$300 – 13 to 20 people
$375 – 21 to 30 people
$450 – 31 to 40 people
$525 – 41 to 50 people
For more than 50 people, add $8 per person.
Bungalow Reservations for Weddings

From experience everyone wants to attend the wedding and the accordingly reservations are made quickly and usually well in advance. But things happen (or don't happen) and reservations begin to be cancelled. For that reason we have a different reservation policy for weddings. We have a small hotel and with the reservations made so far in advance we will turn away other reservations to hold your space.
We request a 50% deposit 4 months prior to your entry date. If you need to cancel in the first 2 months after depositing we will put the reservation up for sale and upon resale refund your deposit minus a 25% administration fee. If you cancel 60 days-31 days prior to the entry date you will be charged the 50% deposit.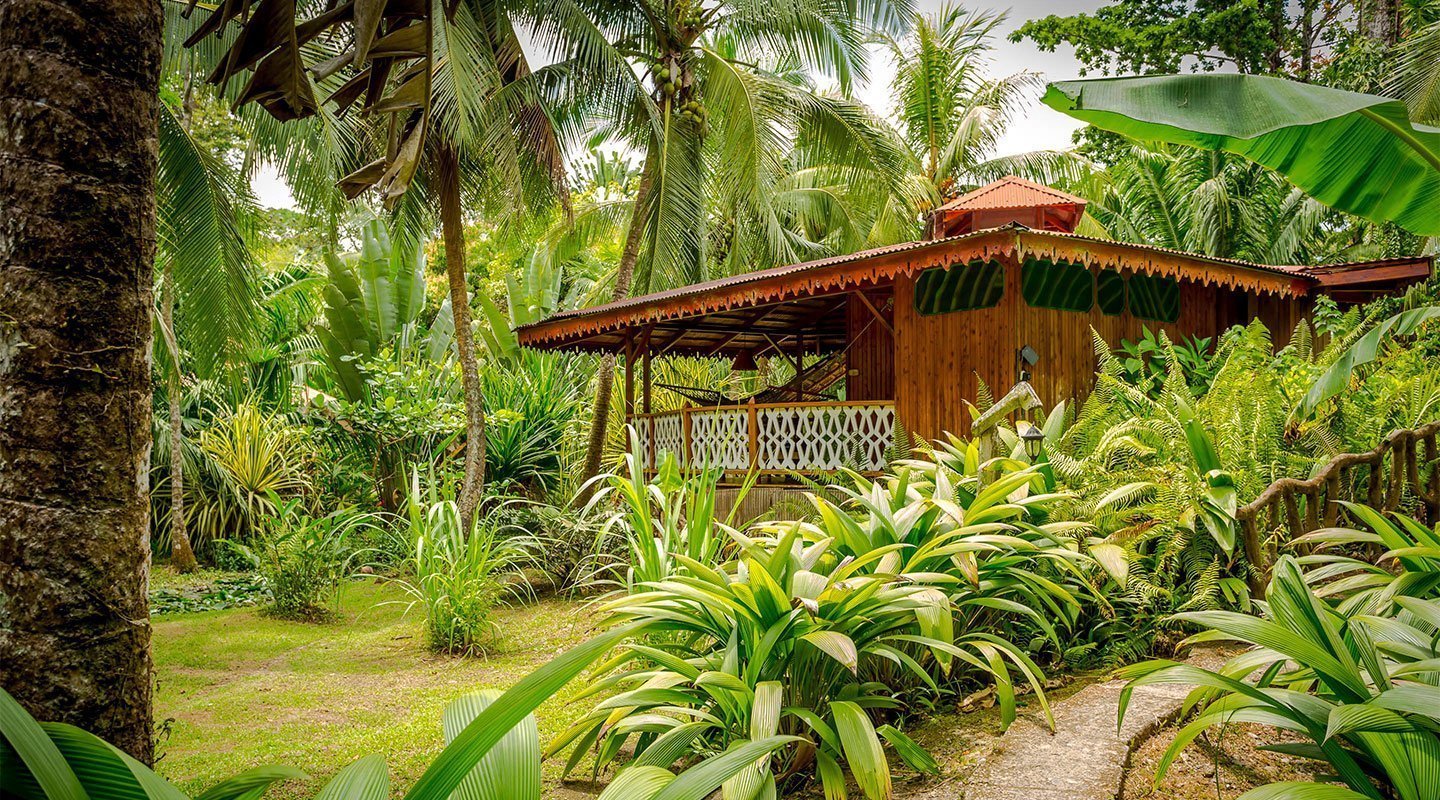 You will deposit the remaining 50% 30 days before the date and this is nonrefundable.
Flowers, Bouquets, and Floral Crowns

From our garden we can create table settings, bridal bouquets and floral hair crowns for the bride.
Bouquets from $20
Floral Hair Crowns from $30
Indulgence Spa and Beauty Salon

At your service for hair, makeup, manicure, pedicure and a delicious menu of massages and body treatments.
Reception Dinner

Our elegantly rustic restaurant and bar has been chosen over and over again as a one of a kind setting for the reception dinner.
Truly delicious food, appetizingly presented and impeccably served to satisfy all needs and expectations. Caribbean fare, sophisticated dishes or a fusion of the two.
Wedding Dinner Prices
Sample Menu – $ 28 per person
With Dessert – $ 31 per person
Price includes 13% IVA tax.
We can work with a local Bakery to offer your Wedding Cake.
Bar
Our bar prices are very reasonable and we will work with you to serve what you want for your guests in the format you elect. Beer, wine, cocktails and mixed drinks, sparkling wine or champagne, Open Bar. Open Bar with a dollar limit. Open Bar for a limited time. You decide.
Domestic beer ………………………..$2.50
Wine ………………………………….…$5.00 glass
Cocktails and mixed Drinks ………$5.75
Soft Drinks……………………………..$2.00
Fresh Juices……………………………$2.50
(Does not include 10% service charge or 13% tax )
Music

A Live Calypso band on our stage, a local D.J or simply connect your IPOD to our sound system with the music you have programed.
Live Calypso – 2 one hour sets $320
Bonfire on the Beach
A brilliant fire burns into the night lighting up Cocles beach (across the road) as the waves crash onto the sand. Providing another powerful, unforgettable experience for everyone.
To clean and prepare the beach area, set up the bonfire and that night to light the entrance to the beach and ignite the fire $250.
Photography

It is with pride and privilege that we present for your consideration Gabriel Anta. A master of the moment, Gabriel will record the significant events of the day and spontaneously capture those magical moments that expire in an instant but live forever in an image.
Gabriel speaks English, French and Spanish and as you will come to agree is an absolute pleasure to work with. All the photos featured here on the wedding page have been done by Gabriel Anta. Includes photos before the ceremony of the bride and groom, the ceremony, after the ceremony a beach session with the bride and groom and guests and at the reception dinner.
Getting Married in Costa Rica

You can be legally married in Costa Rica by a lawyer or a Catholic priest. We can provide you with an English speaking lawyer. If you would like a catholic ceremony let us know.
Documentation

You will send us your full names, birthdates, occupations, ages, actual marital status, home address, passport copies and the names and nationality of your parents. Two witnesses will need to sign the marriage act which we can do if necessary. Family members can be witnesses.
Sworn Declaration

Sworn declaration is required of a foreigner certifying that he or she has never been married. If you are divorced or widowed you must indicate the full name or your "ex" and the date of the divorce or death. Documentation is not necessary.
Price: $165 for one or two people.
Marriage ceremony

Can be done in English or Spanish in the lawyers office in Puerto Viejo or at an alternative location, for example, the beach. The text of the ceremony can be adapted by adding passages to your liking. The marriage will be officially inscribed in the National Register. This process takes about three months.
Price: $390
Certification of the marriage certificate

Foreigners may want to obtain a legal international certification of their inscribed Costa Rican marriage certificate from the Ministry of Foreign Relations to present in their own countries.
In the USA this is presented at the Vital Records Department. This process requires another month after the marriage is inscribed in Costa Rica. The certificate will then be mailed to you in your own country by registered mail.
Price: $200
Master of Ceremonies

If you are already legally married or would like to legally marry in the lawyers office and then have your own personalized service on the beach, we can provide a master of ceremonies who will work with you to create the ceremony you want.
Price: $140
Photo Gallery